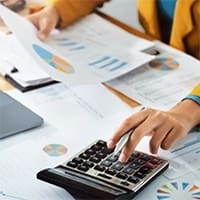 Credit unions, banks, insurance, credit card firms, financial technology (FinTech), and alternative financing providers, all consider PPC advertising because of the reach and ROI it offers. Targeting can cover an entire state or just a specific small radius within your location. With laser-focused targeting, financial services can get the best return for their ad spend based on the campaign they are promoting.
Why Finance Businesses should be considering PPC
A Google search is normally the first step to most interactions in the financial and banking space. PPC advertising, specifically Google Ads, is the best way to reach the top of Google SERPs and present your brand to interested searchers.
For example, one of the most popular searches for banks on Google is "banks near me". This shows that many people are looking for a bank to use the ATM, open an account, or apply for a loan.
With PPC, you can target particular demographic groups, geographic regions, and more. In addition, your advertising can be tailored to appear at specific times of day, on specific days of the week.
Financial Services PPC Considerations
Financial products are very competitive, and the cost-per-click for financial service keywords is usually higher than the average industry keyword cost. Banks can expect to spend up to $50 per click, and without a carefully planned strategy, the monthly budget can become excessive.
By focusing on "long tail" keyword searches such as "best mortgage lenders in [location]," a bank can strategically enhance its PPC campaign results to obtain an effective ROI.
To get the best conversion rate from those expensive clicks, finance businesses must build optimized landing pages to improve their PPC quality score, which can result in significant conversion rate improvements.
Achieving Better Results with PPC Strategies for the Financial Services Industry
The financial services industry faces unique challenges and opportunities when it comes to digital advertising. The use of financial products is growing, and PPC advertising offers an unparalleled avenue for financial services companies to drive conversions and get a higher ROI on ad spend. Managed by a team of PPC experts, PPC in finance leverages data-driven methods and SEO and PPC synergy to optimize your conversion rate. With cost-per-click rising, financial service providers must adopt PPC strategies that yield cost-effective outcomes. Tools like Google Ads can help financial organizations generate leads in this competitive financial sector. By employing targeted PPC ads, financial businesses can reach specific demographics and funnel website visitors into customers. Moreover, planning PPC campaigns with relevant keywords can enhance the clicks on your ad, making PPC keywords a critical factor for success. To fully harness the potential, financial services businesses should consider a PPC agency that understands the financial industry and can make informed decisions, thus enabling better results from your digital advertising efforts.
PPC for financial services has emerged as an indispensable tool for financial marketers aiming to attract and convert discerning customers. Effective PPC ad copy is a cornerstone of successful PPC campaign, tailored to the needs and interests of a specific target audience. With pay-per-click, firms can allocate their advertising budget with precision, ensuring that every cent goes toward efforts to reach the right audience—those likely to convert. Paid search marketing is more than just exposure; it's about engagement with prospects who are more inclined to discuss your business's offerings and take action. A marketer who comes to PPC equipped with a deep understanding of financial PPC can leverage these paid search campaigns to help you reach a curated demographic, efficiently attracting the right clientele. PPC services, beyond just managing bids, provide PPC platforms that allow financial institutions to track the performance of their campaigns in real-time, making it easier to iterate and optimize for better results. Ultimately, the benefits of PPC advertising in finance are clear: it allows financial companies to enhance their sales and marketing funnel, using every dollar spent to attract customers who are more likely to engage and invest.
Why You Need to Hire a PPC Agency 
Paid media campaigns need to be set up, monitored, and optimized as part of PPC advertising management. This procedure can be difficult and time-consuming, particularly for internal marketing teams that must balance many responsibilities. Therefore, businesses should think about employing a PPC agency to handle their paid advertising accounts in order to maximize their investment in paid media and get the most competitive outcomes, such as:
Your account is receiving more attention.
Agencies staying up-to-date with trends.
Detailed and comprehensive reporting.
Providing you with strategic insights and recommendations.
Conclusion
By taking note of the best practices for PPC campaigns, financial service providers can make effective use of this channel to drive potential customers to your business.
However, PPC campaigns can become complex, and when this is the case, you should consider finding a PPC agency to help manage and optimize the campaign so that you can concentrate on servicing customers.
---
Frequently Asked Questions, Answered
1. What financial product am I not allowed to promote?
Google forbids ads from promoting a variety of financial products, such as:
Short-term loans (loans that require full repayment within 60 days)
Personal loans with high APR
Trading binary options or comparable goods
Speculative financial items that are complex
Services to repair credit
2. Do financial keywords cost more?
Financial keywords are highly competitive. This frequently translates into a higher cost-per-click than other businesses when it comes to digital marketing for financial services. To help draw in the most qualified leads, concentrate keywords on your niche rather than the industry as a whole.
3. Are display ads worth it for the financial industry?
Yes, the regulations for advertising may be strict. However, millions of customers require financial products, such as basic banking accounts, business loans, alternative financing, auto insurance, assistance with tax preparation, retirement planning, and home equity loans.
There are various ways to increase engagement and increase conversion rates with display advertising:
Behavioral
Contextual
Geographical
Site-specific