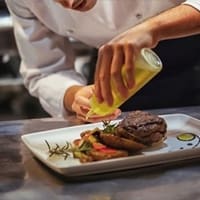 When people are hungry, they often turn to the internet. Whether you offer "pizza in Boca Raton" or run an "Italian restaurant in St Louis," you want to make sure that your business information pops up. PPC can help get your menus, restaurant reviews, or food ordering page on their smartphones.
Examples of Food Services That Benefit from PPC
All food producers and service providers businesses can benefit from PPC advertising. Below we provide only a few examples.
Cafes and bars
Before many people decide where to go for a coffee or for drinks, they conduct research online. They may want to see what's near them, what the happy hour specials are, view menus, and more. PPC can put your establishment's name at the top of search results, leading to increased audience engagement and lead generation.
Food Producers
Are you a food producer that wants to get seen by buyers in the industry? Perhaps you want to make sure potential consumers can read your ingredients list online and order directly from your site. PPC can help you revitalize your marketing campaign so that you target your various customers in effective and memorable ways.
Grocery Stores
How do you get more foot traffic into your store? Maybe you have an online ordering system, and you want to encourage people in your location to order online and pick up their groceries. Some of the benefits of PPC for grocery stores is increased brand awareness and improved reporting strategies so that you can figure out what metrics you should be measuring.
Restaurants
When looking for a place to eat, most internet users don't click past the first page of results in Google or Bing. The top three results get approximately 41% of the clicks on the page, which means that if your restaurant isn't claiming a top spot, there's a big chance that you're missing out on potential business. PPC gives you the opportunity to compete against larger restaurants that have better rankings in search engines. By bidding on the right keywords, you can get a top spot.
Best Marketing Strategies for Food Services
PPC marketing is a great way to get in front of people who could buy from you. Advertisers bid on certain keywords that users type into search engines in order to display a relevant ad to those users, hopefully pulling them into the advertiser's site. Here are a few great PPC strategies:
Advertise on a variety of platforms.
Start a remarketing campaign.
Use ad extensions.
Create mobile-first landing pages.
Consider lookalike and comparable audiences.
Establish a reasonable advertising budget.
Create appealing, benefit-laden ad copy.
Why You Should Hire a PPC Agency
For PPC advertising success, paid media campaigns must be set up, managed, monitored, and optimized. This process can be complicated and time-consuming, especially for internal marketing teams juggling multiple duties. Businesses might consider hiring a PPC firm to manage their paid advertising accounts in order to maximize their investment in sponsored media and achieve the best results, such as:
More attention is being paid to your account.
Trends are kept up-to-date by agencies.
Reporting is detailed and comprehensive.
You're given strategic advice and recommendations.
Conclusion
PPC has various advantages for your restaurant, grocery store, cafe, or food services company. You can reach more people at the exact moment they are ready to buy from you.
Frequently Asked Questions, Answered
1. What are geo-targeted ads for the food industry? 
Geo-targeting is the process of distributing advertising content to clients that meet certain criteria inside a specific geographic region. Geo-targeted marketing, in addition to targeting people within a certain radius, allows firms to zero in on consumers based on their habits and demographics.
2. What are the benefits of PPC for the food industry?
Here is a list of 5 benefits of using PPC in the food industry:
You only pay when someone clicks on your ad
You have control over your budget
You have full control over your campaign
You generate more authentic leads
You are able to easily monitor your campaign
3. Should I use mobile ads for my food business? 
Because consumers are looking for nearby dining options while on the go, mobile advertisements are frequently the ideal candidates for restaurants. Furthermore, mobile ads are less expensive than desktop ads and have higher conversion rates.