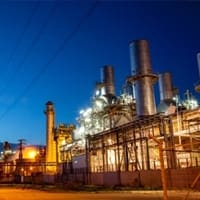 According to the International Energy Association, renewable energy will total 22% of US electricity generation by the end of 2022. Whether you're selling energy, helping others to invest in their own renewable generation capacity, or an oil & gas provider that is looking to target a niche audience, PPC can help you create a long-term strategy that will set your business up for success.
Energy and Power Companies That Benefit from PPC
All energy and power-related businesses can benefit from PPC advertising. Below we provide only a few examples.
Oil and Gas
As an oil and gas company, you may want specific information about your business to reach regulators, governments, investors, and financial institutions. Whether you are in the business of upstream exploration and production, oil & gas transportation and storage, or refining and marketing, PPC can take your marketing efforts to new heights. PPC metrics can give you key insights about your cost per acquisition, revenue per click, ROI, and more.
Renewable Energy
Global electricity generation is predicted to rise to 45 percent by 2040. Whether you produce renewable energy from wind, solar, hydroelectric, geothermal, or biomass, or your company produces generation equipment or provides another service to the renewable industry, PPC can give you a laser focus on your target audience. Generate more leads by claiming the top spot in search engine results for the solutions you have to offer.
Retail Energy
In the retail energy industry, consumers have a competitive list of suppliers to choose from when determining which supplier will best serve their home or business. With so much competition in the retail energy industry, PPC can be an effective way to boost your marketing efforts and share your business, its values, and services with your target audience. A multifaceted lead generation approach increases your company's ability to reach new heights in the retail energy industry. Pay-per-click (PPC) ads are presented on search engines and other websites. Advertisers bid on relevant keywords for ad space, and an automatic auction process determines which ads appear when someone performs a Google search for retail-energy-related services or visits a website. You only pay when someone clicks on your ad and generates a lead or a conversion opportunity.
PPC Strategies for Power and Energy Companies
If you're not investing in PPC for your energy company, you're losing leads and customers to your competitors. When you hire a PPC agency, you will get a fully optimized PPC campaign that will reduce wasted advertising costs and give you clear insights into the leads you are generating and the sales you are closing. Here are some of the pay-per-click activities required for a successful campaign:
Keyword research and development
Advertise on several networks
Ad copywriting, testing, and optimization
Bid management
Why You Need to Hire a PPC Specialist
A PPC expert understands how to regionally target your campaign, decrease costs, and enhance ad visibility during important times of the day. There are hundreds of options and variations when starting a new campaign, not to mention everything else that comes with PPC.
Conclusion
It is vital to invest in specialized PPC tactics for your energy or power company to stay ahead of the competition. Year after year, the company grows, as does the opportunity to target and engage audiences via PPC. Begin by investing in one of the approaches described in this guide at a time. Monitor performance to decide which are most effective in terms of supporting you in attaining revenue targets.
Frequently Asked Questions, Answered
1. Is PPC for the power and energy industry cost-effective? 
PPC allows you to choose your maximum budget and bid amount, and you only pay when someone clicks on your ad. This structure allows you to change your spending as needed, and you only pay when someone converts.
2. Will PPC for the power and energy industry improve my visibility? 
Search engine optimization (SEO) is an important digital marketing strategy, but it can take some time to reach the top of search results. However, with PPC, you may get there fairly immediately. This is because ads appear above the top organic search results, giving you immediate visibility.
3. Can I monitor and change my ads? 
PPC platforms such as Google Ads provide data on how your ads are performing. Impression, click-through rate, quality score, and conversion rate are all important indicators to monitor. You can use this data to optimize your adverts and maximize your ROI. It's also simple to test different ad variants to discover which ones perform best.
4. Can I monitor and adjust my campaigns? 
One advantage of using PPC for power and energy services is that you can collect a lot of information about how your campaigns are performing. To get the most out of your campaigns, closely analyze this data to identify what works and what doesn't. If an ad isn't performing as well as you expected, you can make changes to try to improve its performance.