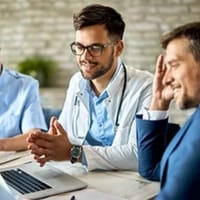 Like some other industries, healthcare advertisers face challenges such as high competition and expensive keywords for PPC ads. Despite sensitive information and strict privacy laws, healthcare advertisers need to be careful with their PPC strategy and ad spending.
According to a Google study, 5% of searches are health related. Wholesalers are selling to hospitals, people are looking for health insurance or a new healthcare provider, and health professionals are looking for specific medical equipment. All of these searches are extremely competitive and result in costly ad keywords.
Healthcare Industries That Benefit From Working with a PPC Agency
Hospitals
Hospitals and healthcare organizations need to promote their medical services, and using PPC to geographically target interested searchers immediately is the quickest way to get your brand in front of potential patients.
Dental
Dental PPC advertising is a cost-effective approach that could have a big impact, regardless of whether your website is new or you just aren't getting the online attention you want. Because you only pay for the ads when a user clicks, it is exceptionally cost-effective. PPC can improve your profits and investments by reaching more prospective dental patients online.
Pharmaceutical
The pharmaceutical sector is incredibly competitive. As a result, pharmaceutical companies can boost their brand recognition and generate brand awareness with a specialized PPC advertising strategy. The ability to target specific audience segments that are actively looking for solutions to their immediate healthcare problems makes PPC advertising effective for the pharmaceutical industry.
PPC Services for Healthcare products and Services
The Healthcare industry uses online marketing and PPC services to drive highly targeted traffic to their websites. Here are eight things to include in your PPC strategy.
Campaign Creation
PPC Campaign Management
Bid Strategy
Keywords Research and Strategy
Ad Strategy
Quality Score Improvements
Landing Page Optimization
Detailed PPC Reporting
Advantages of Hiring a PPC Agency for Healthcare
There are many benefits to outsourcing to a PPC agency, including:
Agencies will have up-to-date PPC knowledge.
Relevant experience and skills.
ROI-driven results.
With an ad agency, you save time and money.
Offers high scalability for your business.
Provides cost-effective services.
Conclusion
Healthcare providers need to be familiar with the intricacies of starting a pay-per-click management campaign. Additionally, it is essential that you have the best agency in place to oversee and improve your advertising while maintaining regulatory compliance.
Achieving ROI-Driven Impact in Healthcare PPC Services
In today's health industry, a strong PPC strategy is no longer a luxury but a necessity. Specializing in digital marketing solutions, we address the unique challenges of the healthcare industry. With our team of PPC experts, we provide a full range of PPC services, including PPC campaign management, keyword research, and landing page optimization. Our PPC specialists employ data-driven tactics, focusing on high-impact areas to optimize your PPC campaigns, ensuring your ads and landing pages are primed for maximum conversion rates. We understand the nature of business in the health sector and can tailor our advertising campaigns to meet your business goals, from patient acquisition to brand building. We offer tactical implementation and growth methodology to ensure that your ad campaigns achieve the best ROI, while maintaining scalability. Contact us today to discuss setting up specific, growth-impacting marketing support and a full execution plan, tailored to your goals and budget.
---
Frequently Asked Questions, Answered
1. Is PPC worthwhile for healthcare?
Did you know that 1 in 20 searches on the web are healthcare-related? With this statistic, it makes sense to take advantage of paid search ads in the healthcare industry.
2. Am I allowed to remarket my healthcare services?
Healthcare marketers are not permitted by Google to retarget potential patients with advertisements. As a result of potential patient privacy issues, hospitals and practices are not allowed to utilize display advertising (ads that run on other websites) to entice visitors back after they have visited their website or clicked on their ad.