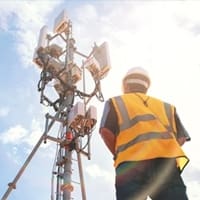 Companies need to promote their products and services to consumers, business customers, and other service providers. Growing recurring monthly subscriptions or adding new major accounts to generate the highest level of revenue is what telecommunications, technology, and engineering companies strive for.
The industry has many players, and gaining market share requires focused strategies due to its competitiveness. PPC ads get your products and services directly in front of your target market when they are looking for your products and services.
Using PPC to Market to Consumers
Telecom, technology, and engineering companies can market their products and services to consumers through new orders, upselling, and cross-selling to their customer base. With that, companies can increase revenue and customer count.
Having clients with multiple services protects your customer base from competitor activity from other indirect competitors. By engaging in PPC ads, such companies can increase their brand awareness by securing a top position on search engines when consumers are looking for related products and services.
Using PPC to Market to Businesses
It is important to inform your clients about the benefits and relevance of new technologies due to rapid technological changes. Target and attract your business prospects using PPC ads and then lead your prospect into the consultative selling process of providing discussion papers, webinars, and benefits of your products and services.
Marketing to Carriers and Service Providers
Marketing your products and services to other telecommunications and technology companies should be an important part of your program as they increase revenue for your business. They enable other service providers to extend the reach of their networks without the additional expense of building additional infrastructure. Get in front of other providers by engaging in PPC ads to secure your position at the top of search engines.
Conclusion
Many companies and consumers use telecom and technology products and services every day, and it is imperative that marketing strategies are created to capture market share to generate profitable services. There is also a high acceptance and usage of clients and consumers using cell phones to find the right vendors, and getting to this target market can be a key to a successful marketing strategy.
PPC ads are one of the best ways to guarantee that you get found on page one of search engines when clients, consumers, and relevant businesses are looking for telecom, technology, and engineering products and services. Find a PPC agency in PPC Agency Guide to help you set up and manage a profitable PPC campaign.
Frequently Asked Questions, Answered
How to reduce churn in the telecom, technology, and engineering industry?
To maintain a sustainable business, one has to reduce the churn rate. These are some of the strategies to consider:
Take care of your customers, and they will stay
Focus on customer experience in addition to customer care
Offer innovative solutions can increase customer loyalty
Listen to customers and act on feedback
Implement relevant loyalty programs