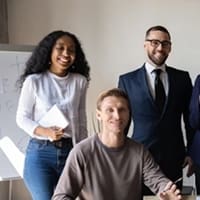 Search Engine Marketing (SEM), also called paid search or PPC advertising, is a great way to reach potential customers who may not have found you otherwise. PPC ads are not only a way to attract leads to your professional services company but can also be included as a critical strategy to support your business goals.
Approximately 15% of Google searches daily are unique, meaning that five people looking for the same professional services could all search using different keyword combinations. With SEO, it is almost impossible to target all the keyword variations, never mind being ranked on page one for each keyword phrase. But with PPC, you have the flexibility to target a larger number of keyword variations, all within the same budget. That way, you can be sure of getting in front of potential customers at the right time, within an acceptable budget spend.
Examples of Businesses and Professional Services That Benefit from PPC
All professional service providers and businesses can benefit from PPC advertising. Below we provide only a couple of examples.
PPC for Lawyers
Before calling a lawyer, people do an Internet search to research the different services available. Making sure your law firm is at the top of the search engine results is the first step in winning new clients. PPC ads enable law firms to get their services at the top of the search engine results ensuring that you get your fair share of available leads.
PPC for Architects
Search engine marketing or PPC advertising is important for architecture firms as there are many people already looking for your services. By using paid search advertising, you can be sure to show up at the top of the search engine results. Architects use PPC ads to generate more leads, and by linking your ads to well-designed landing pages, you can increase your chances of converting your website visitors into qualified leads.
PPC Strategies for Business and Professional Services
Professional services companies sell no products, yet they can charge a premium for the services they provide. Among others, lawyers, architects, financial advisers, consultants, engineers, and accountants all provide varying services of value.
Using PPC ads, professional services companies have the flexibility to advertise at will, especially when they have the surplus capacity to take on more clients. Engaging in PPC ads enables professional services companies to allocate a budget that can be controlled and stopped or started at will.
Reasons to Hire a PPC Agency for Business and Professional Services
Here are the top six reasons why you should hire a professional PPC agency to manage your PPC marketing campaigns.
1. Knowledge and experience.
2. Saving time.
3. Return on investment (ROI).
4. Data access.
5. Concentrated attention.
6. Better budget and other service management.
Conclusion
The flexibility that PPC ads offer the professional services industry is unsurpassed. The strategic use of PPC ads allows the professional services industry to advertise on demand and stop when not needed. This flexibility alone is attractive as marketing budgets can be controlled, and ROI can be measured. When you need assistance with your campaign or want to concentrate on other areas of your business, PPC outsourcing can be beneficial.
Frequently Asked Questions, Answered
1. Can I use business trademark terms for PPC ads?
You may use competitors' brand names in the display URL. Competitor ads that use branded or trademarked terms in the ad text or ad title, on the other hand, are not permitted.
2. How can I get higher conversion rates for business services?
Here is how to Improve Your PPC Conversion Rate:
Improve your landing pages.
Understand your current PPC conversion rate.
Analyze and improve the purchasing funnel.
Create ad copy that is relevant.
Increase the quality of your advertisements.
Make an investment in remarketing.
Select the correct keyword match type.
Negative keywords should be removed.

3. What is frequency capping for business services?
Frequency capping limits the number of times a specific advertisement is shown to customers and prohibits it from being presented to customers who have already seen it a specified number of times.
4. How often should I check and manage my business' PPC campaign?
It is critical that the performance of the accounts is monitored on a daily basis so that any anomalies can be identified as soon as possible. For example, maybe your payment method failed, and your account was shut down.