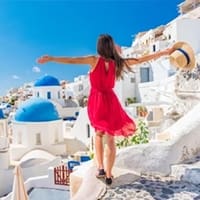 Many years ago, if you wanted to book a trip to go on holiday or for business, you would need to visit your local travel agency. Nowadays, when people are thinking of going on a trip, they start their journey on search engines (Google, Bing, Yahoo, etc.). Having a robust paid search strategy is critical to ensure that you can get in front of your target market when they start their travel planning on search engines.
There are many competitors out there, like Expedia & Bookings.com, who have massive budgets and take a commission for all bookings that originate from their websites. If you are paying 12% – 20% for travel leads, then a focused PPC campaign could possibly produce a better return.
Tourism & Travel Industries That Can Benefit from PPC
Car Rental
Almost everyone planning a holiday or trip needs to rent a car. What better way to market your car rental business than with pay-per-click advertising. With PPC you'll be able to market your business to prospects who are not only looking for car rentals but airports and hotels too. You'll need to ensure that you have a targeted PPC strategy and a plan in place to retarget customers who have visited your website but have not made a purchase yet.
Hospitality
Using PPC to target phrases like "Hotels near me" can get your hotel in front of a searcher at exactly the time they are looking for your establishment.
Airlines
Approximately 90% of people book their airline seats online. This is good for the airline industry as a whole, but how does your flight booking business reach these potential travelers with all the online competition? PPC provides the means for your airline to get in front of potential travelers instantly.
Tourism
The best way to get in front of tourists is through pay-per-click advertising. Tourism websites can use a number of pay-per-click channels to reach their target market.
Google Ads
Microsoft Ads
Facebook Ads
Twitter Ads
Instagram Ads
And the Google display network
Why You Need a PPC Specialist for Tourism
If you are not an expert at digital marketing, especially with regards to PPC advertising, you can spend a lot of marketing dollars without getting the desired results. SEO can produce results, but it can take a while to get the results you need. With PPC, you can win new customers faster because of the instant nature of this advertising channel.
Building brand awareness for tourism with PPC
Running a PPC campaign can attract a lot of people to your ads, but when they don't click, it doesn't mean that they are not interested. They may just not be ready to purchase at that moment. In fact, your ad has made them aware of your brand, and they will remember your brand and may choose it over others when they are in a buying phase.
Conclusion
Travelers and tourists start an online search to help them when they are looking for products, services, experiences, or attractions. You need to show up in the search engine results to stand a chance of getting your fair share of bookings. PPC advertising gets your brand at the top of search results where you can stand an equal chance of getting their business.
---
Frequently Asked Questions, Answered
1. How can PPC help travel and tourism?
When done correctly, pay-per-click (PPC) can help your travel and tourism business generate credible leads. PPC visitors are known to buy from an ad when their search intention has been completely satisfied.
2. Should I use display ads for my travel agency?
Using display banner ads is one of the best tactics to use for the travel industry. Displaying an ad for a hotel on the white sands of a beautiful beach goes a long way to getting a click from an interested traveler.
3. How can I stay up-to-date with PPC for the travel industry?
To stay ahead of the competition, you must stay educated on the industry. Fortunately for you, Google has a digital concierge who can advise you on travel tactics and industry news. Subscribe, receive inspiration from others, and stay up-to-date on changes to drive your paid search development and success.