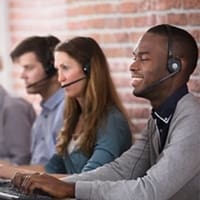 Business process outsourcing (BPO) is a $232 billion industry and is anticipating 8.5 percent growth annually for the foreseeable future, per Grandview Research. With growing industries comes increased competition, and BPO companies have to fight for their fair share of online space to attract awareness to their brand and services.
Leading BPO companies utilize all the available digital marketing channels to get to their target market and educate them on the benefits of business process outsourcing.
PPC advertising can be the best channel to use if you want a guaranteed place at the top of the Google search engine. PPC advertising for the BPO industry serves two main purposes:
Gets your brand immediately in front of interested searchers
And with a suitable budget coupled with an Ad campaign strategy, a BPO company can secure a spot on Google for all relevant searches and ensure that they get more than their fair share of impressions on the Google search engine.
When campaigns are watched and tailored to what your prospects and clients are looking for, your results will improve over time. Our recommended agencies will monitor campaign data and fine-tune your ads to ensure optimal ROI and results.
PPC Benefits for BPO Companies
These are the niches that most BPO companies market and advertise using digital marketing channels.
On-Site Outsourcing
Prospects that are interested in using On-Site outsourcing services look towards a number of things to help them with their selection of the best vendor.
They want to make sure that the BPO team is trained and certified on the technologies used by the prospect.
Providing this information and answering all the relevant questions can be achieved by using the best Ad messaging to convert the searcher's click.
Offer a guide that contains a comprehensive description of your services as well as displaying client testimonials to help with verification and selection.
Incorporating the above in your PPC campaign and using high-converting strategies on your landing pages will ensure you make a good first impression and produce the results you desire.
On-Shore Outsourcing
Promoting your on-shore outsourcing facility and services is an important strategy for BPO companies wanting to take advantage of prospects within their geographical location.
Promote the benefits of on-shore outsourcing by taking advantage of:
Operating within the same time zone as your clients
Easy to have monthly or quarterly meetings and updates
Being closely located helps with developing important relationships between vendor and client at a personal face-to-face level
Near-Shore Outsourcing
Companies look to near-shore outsourcing to gain the advantage of better cost-to-service prices. Many neighboring countries offer cost-effective outsourcing services, and most are just a short flight away or a crossing of a border.
Near-Shore BPO companies can advertise their cost effectiveness to their target market, and by including video within their Ad campaign, they can present the best image to ensure their company is part of the selection process.
Off-Shore Outsourcing
Attracting off-shore BPO clients can be extremely challenging. Prospects need to be convinced that they can outsource their critical business processes to a BPO company in a foreign country.
Making sure your PPC campaign focuses on the effectiveness and reliability of your facility, including adequate risk and confidentiality control, and demonstrating the culture of your company are all important factors to get across immediately in your PPC campaigns.
Types of PPC Services for BPO Companies
PPC Strategy
PPC Ads
PPC Keyword Research
PPC Agency Campaign
PPC Management
Reasons You Should Hire a PPC Agency for BPO
Working with a PPC agency can significantly influence the effectiveness of your paid ad campaigns to ensure that they perform well. For example, agencies can:
Use innovative ad forms such as gallery advertising.
Change the audience targeting.
Implement various bid strategies.
Create remarketing lists.
Determine negative keywords.
Keep track of platform policy updates.
Ad copy and creativity should be tested.
Tailored PPC BPO Strategy
Timeless tactics like understanding user intent and audience targeting are the most effective PPC strategies for high performance. However, due to the continual evolution of advertising techniques, policy adjustments, and customer behavior and expectations, it's subject to change. Some excellent strategies are as follows:
Understand your target audience and plan accordingly.
Keep track of compliance.
Create multiple campaign landing pages.
Describe your situation honestly.
Conclusion
The key issue is to convince your reader that your BPO company deserves to be on the selection and evaluation list. To achieve this, a number of strategies should be considered:
Creative ad copy to encourage the click-through rate
Optimize landing pages that lead to supporting information and guides to ensure your reader spends enough time reviewing your services
Link to videos of your facilities to provide the visuals that they will need in the evaluation process.
---
Frequently Asked Questions, Answered
Should I hire a PPC agency for my BPO business? 
Running a PPC campaign using your in-house marketing resources may sound appealing, but keeping up with the certification requirements of Google and other platforms may be difficult when having other job functions to attend to as well.
A professional PPC Ad agency that works with you to understand your business can share many other ideas based on their experience as a PPC agency.