How to use PPC to Grow Your Transportation Business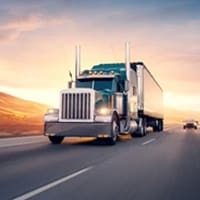 Owning a transportation and logistics business has many challenges. Rising fuel costs, changing legal requirements, and driver shortages, not to mention competition from other transportation or trucking companies.
Traditional marketing methods such as print advertising, direct email marketing, and networking are not as effective as they were. Based on these challenges, transportation companies are embracing digital marketing to increase their brand awareness and generate leads.
There are many ways to attract traffic to your website, and PPC advertising should be at the top of your list when starting out. PPC advertising enables your website to appear at the top of the search engine results page and attract website visitors when they click.
How to use PPC to Recruit Truck Drivers
Driver shortages are one of the challenges transportation companies face daily, and having a pool of drivers is not always easy to reach. Attracting the best applicants means that your digital marketing recruitment campaigns need to be effective.
Engaging in PPC ads to find qualified truck drivers should be your main digital marketing priority. When a driver candidate clicks on your ad, you can lead them to a landing page where you can begin the recruitment process. In addition, running regular PPC campaigns can be a great way to build your list of available truck drivers when needed.
Conclusion
Advertising your transportation company services is necessary to sustain your business, especially in the start-up phase. Also, finding and recruiting truck drivers may be a regular activity that needs to be done, and engaging in PPC ads could be the most flexible approach as ads can be highly customized by location, time of day, and budget allocation.
Want to run successful PPC advertising for your transportation company? Find a PPC agency on our website that can help with your PPC transportation and logistics campaigns.
Frequently Asked Questions, Answered
1. How do I improve my transportation PPC performance? 
You can boost the performance of your ad campaigns in a variety of ways. First, prioritize high-performing keywords while eliminating low-performing ones. In addition, you should produce intriguing ad language that entices visitors to click and discover more about your brand and services.
2. Should I target my own transportation brand name? 
It is determined by how competitive your brand's name terms are. If you have a one-of-a-kind brand name that no one else has, your website is likely to rank top in organic search results with no competition. If your brand name is similar to those of other firms or is a keyword-specific term, launching a specialized brand name campaign is important to ensure that users always find you rather than one of your competitors.