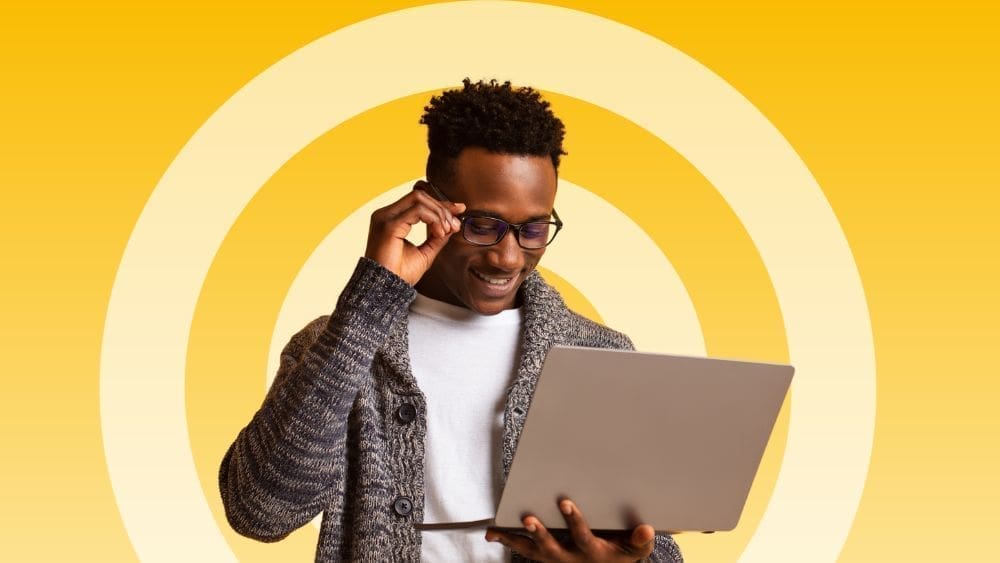 Remarketing and retargeting are powerful tools to have in your digital marketing toolkit. While they share certain traits, they work in different ways to boost your return on marketing investment (ROMI). For example, dynamic remarketing doubles conversions and reduces cost per action (CPA) by 60 percent, according to Google.
What Are Remarketing and Retargeting?
Remarketing and retargeting are marketing techniques that help businesses reconnect with people who have already had contact with their brand. They can help:
Strengthen brand awareness and recognition
Create engagement
Increase sales
Boost ROMI
However, remarketing and retargeting work in different ways and allow you to reach distinct audiences.
Remarketing vs Retargeting
Remarketing typically refers to reaching out to your previous customers via email to get them to do business with your company again.
Retargeting gives you the opportunity to reach your website visitors on other sites via paid ads in an effort to move them to the next stage of the customer journey.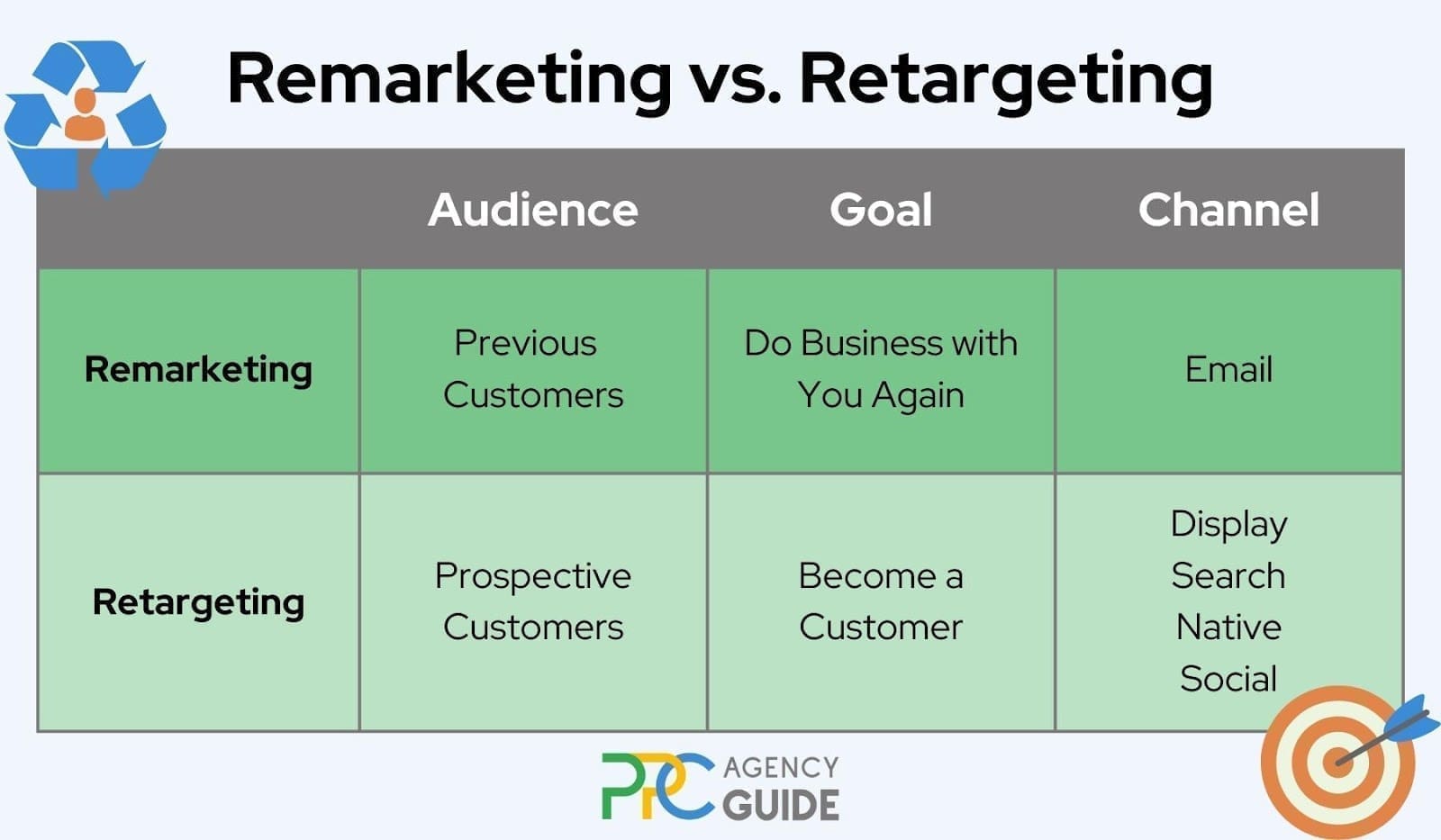 How Remarketing Works
Remarketing is typically a list-based process. The customer provides you with their email address through your lead generation or sales process, and you send them targeted messages later. Some common examples of remarketing are covered below.
Abandoned Cart
More than two-thirds of online shopping carts are abandoned, according to Constant Contact. That means the shopper added something to their online cart but didn't make their purchase. Savvy brands send emails to these shoppers. Around 45 percent of abandoned cart emails are opened, 21 percent of these become clicks, and half of the clicks become purchases, on average.
Account Reactivation
Keeping "clean" email lists is essential. If people don't open your emails, email providers start to view your messages as spam and won't deliver them even to your engaged contacts. To address this, brands often send out a final message before discontinuing messages. You've probably seen some of these "We Miss You" and "Is This Goodbye?" messages in your own inbox.
In Stock
Sometimes, retailers allow shoppers to express interest in an item that's out of stock. Their email address goes on a list, and the customer is automatically notified when the item is back in stock.
Add-On and Upgrade
Businesses of all types send messages to existing customers about add-ons and upgrades. Grammarly, for example, sends users a "Weekly Writing Update." Each one includes helpful stats, such as the number of words typed and details on how the user's vocabulary stacks up to other users. However, different demographics receive unique emails. Those who signed up for the free version but are not using it are given a nudge to sign in. In contrast, those actively using the free version are reminded of the benefits of upgrading. Lastly, those already leveraging the premium version are reminded how they're benefitting.

How Retargeting Works
Retargeting can also be a list-based process, as some advertising platforms allow you to upload a contact list and then identify shared users to display your ads to. However, most retargeting campaigns are pixel-based. This means an anonymous visitor lands on a website, and a pixel is placed on their browser, allowing them to be recognized and be served your ads on other websites. A few examples of how it works are highlighted below.
Search Retargeting
Traditional search ads are PPC ads that appear alongside organic results in search engines like Google, Bing, and Yahoo. Although they're marked as ads, they resemble the organic listings in most other ways. Retargeting can be especially helpful in search ads by allowing you to increase your bid for specific users, such as those with a recent website visit and those with abandoned carts.
Display Retargeting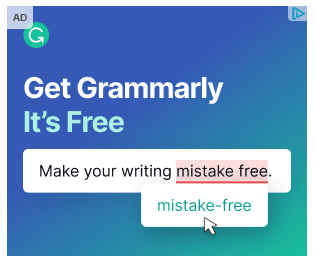 Major PPC ad platforms such as Google and Microsoft allow you to set up display ads, too. These are displayed on third-party sites across the net, which means your retargeting ads can reach your previous website visitors just about anywhere they browse. As you can see in the example, Grammarly's website picked up that we were looking at it earlier and showed us this display ad later to try to lure us back for the free download.
It's also worth noting that Amazon offers its merchants similar options on the platform, though it often uses the phrase "remarketing" instead of "retargeting."
Social Media Retargeting
Although often overlooked, most social media platforms, including Facebook, LinkedIn, and X (formerly known as  Twitter), offer retargeting options too. This allows you to reconnect with your audience on social media after they've engaged with your brand.  
Native Retargeting
You may sometimes see "sponsored stories" or similar as you browse the net. Placed by ad platforms such as Taboola and Outbrain, these ads are designed to look like they're part of a website but link readers to other sites for more content. They also offer remarketing opportunities, which can be helpful if your site offers content for people at the start or middle of the customer journey.
Tips to Use Retargeting Effectively
Although retargeting is a beneficial tactic, taking a strategic approach while setting up campaigns is imperative to ensure you're maximizing your budget and ads are received well.
Monitor Results and Adjust
PPC campaigns require ongoing maintenance. Keep an eye on your ads and make adjustments regularly to ensure optimal performance.
Exclude Low-Quality Traffic
Some visitors will never convert. For instance, you might discover that visitors who bounce have a very low conversion rate no matter what you do. Watch your data to identify if visitors who visit specific pages or complete specific actions have low conversion rates and exclude them from your audience.
Focus on High-Quality Traffic
Equally, you will notice that certain visitors convert more often. For instance, people who spend a certain amount of time on your site or visit a checkout or consultation page are more likely to convert. You can zero in on these audiences or boost your bids on these audiences to maximize your budget.
Have Frequency Caps
People who see your ads too often may begin to turn a blind eye to them or even develop negative feelings about your brand. Whenever possible, limit how often people see your ads, such as no more than one to three times per day. It's also a good idea to limit how long you continue to target people after a website visit. This will vary based on your sales cycle, but the sweet spot is generally between one and three months.
Change Your CTA
Change up your ads and give people new reasons to click as time goes by. Refer to your buyer personas to identify barriers to purchase and solutions you may mention to pique their interest in subsequent ads.
Remove People Who Have Converted
Unless you take steps to prevent your existing customers and new conversions from seeing your ads, they will be part of your remarketing audiences, too. Although they may not click on your ad and waste your budget, seeing your ongoing offers may make them second-guess their decision or make them wonder if they would have gotten a better offer by waiting. Each platform manages this differently, so be sure you're addressing it properly as you set up and manage campaigns.
Boost Your PPC Results with Remarketing and Retargeting
Remarketing and retargeting are advanced PPC strategies. Although they can help you boost PPC results dramatically, it can be challenging to set campaigns up, particularly when it comes to targeting and excluding specific audiences. If you're not getting the results you want from your remarketing and retargeting campaigns or would like help getting set up, request a complimentary consultation.