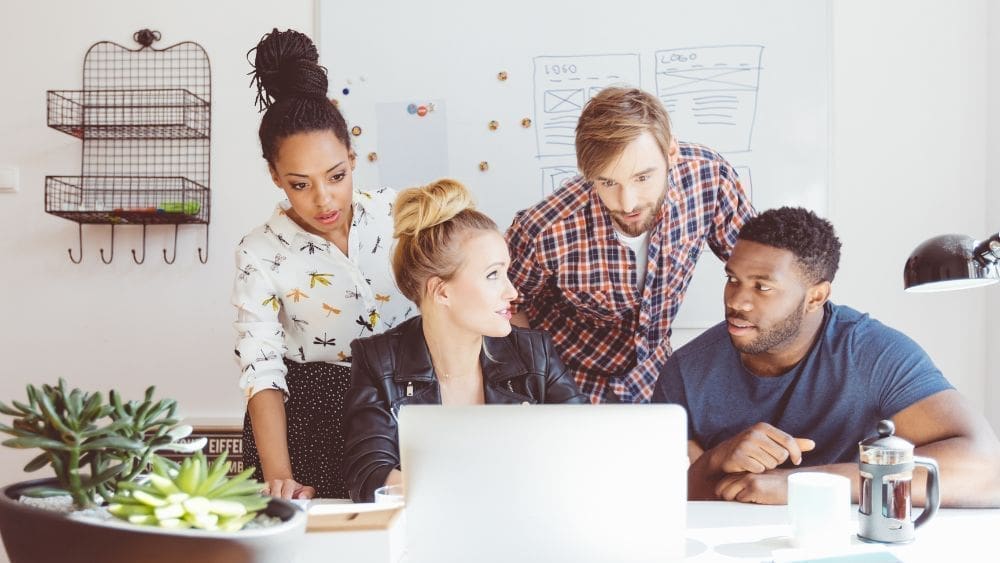 Not getting the results you need from your pay-per-click (PPC) advertising? On average, around a quarter of PPC budgets are wasted due to poor strategies or execution, per Search Engine Land. It's hard to generate leads and sales with such a huge portion of your budget gone right out of the gate.
On this page, we'll walk you through some of the most common mistakes businesses make with their pay-per-click ads, how to fix them, and some of the tricks top-performing PPC marketing companies use to improve their campaigns.
1. You're Not Using Negative Keywords
You'll often hear pay-per-click advertising companies talk about choosing the right keywords for search ads. This usually refers to selecting words and phrases that trigger your pay-per-click ad to display. That makes sense to a certain point. You want to choose keywords that are relevant to your business, speak to your audience and are likely to produce a sale. However, the problem is that some of these very same keywords can cast too wide of a net, while others are simply inefficient and siphon budget away from stronger keywords.
Watch For Search Terms That Aren't a Fit
Let's say, for example, you're setting up a PPC campaign for an attorney in the business and professional services sector. So, you set up an ad using the keyword "business attorney." Your PPC ad will display when people search for terms that aren't a good fit at all, like "business attorney salary" and "business attorney bar search." You'll also display for searches like "female business attorney" and "free business attorney consult," which may not be fit, depending on your business.
Watch for Inefficient Search Terms
It's often said that little more than 10 percent of an ad account's keywords account for most or all the sales. The remaining 90 percent of keywords eat up more than 60 percent of the budget without producing results. The only way to know which keywords are truly working is to evaluate your data.
Add Negative Keywords to Your Accounts Regularly
These issues can be partially solved by homing in your keywords. For instance, you can reduce some of the waste by using fewer broad match terms. However, the only way to completely eradicate them is by adding negative keywords to your account on a regular basis. A good pay-per-click advertising agency will generally do this about once a week, so mirror this strategy if you're managing your ads on your own.
Pay-per-click sites will have different methods for removal. In Google Ads, for example, you'll start by exporting a search terms report. From there, you can make a note of any keywords that aren't producing strong results and those that aren't a good fit. Once you know which keywords you don't want triggering your ads, simply paste them into the negative keywords section.
Bear in mind, you can add negative keywords at the ad, campaign, or account level. Consider adding them at a higher level when it makes sense to do so to save yourself time in the future.
2. You're Sending Users to Your Homepage
Overall, 44 percent of B2B pay-per-clicks send the user to the business' homepage, according to HubSpot research. That's a major concern because the homepage rarely aligns with the ad copy and it's not designed for conversion.
Use Custom Landing Pages
Instead of sending people to the homepage, send them to a specially designed web page, known as a landing page, that maintains the flow. A good landing page:
Maintains the ad's messaging, especially in the headline and subheadlines
Has a clear call-to-action (CTA)
Outlines the benefits and features of your offer
Includes social proof or trust symbols
Includes keywords
3. Your Ad Groups Are Huge
While ad platforms may have slightly different structures, accounts are usually broken down into three levels: account, campaign, and ad group. The account level contains all data related to your entire brand and website. The campaign level can be structured however you choose. Some brands break their offerings up based on the structure of their website, products or services offered, location, or other criteria. The ad groups are the next level down. These contain similar ads and keywords.
Businesses often set up a single ad group or lump lots of keywords together in just a few groups. Sometimes, this is done because they don't know the true purpose of ad groups, while other times, it's because they're trying to make their PPC advertising services easier to manage.
The problem here is that this usually creates a mismatch between what the user wants or expects and what they actually see and experience. Because of this, users click less, and the ad will typically have a lower quality score, so it displays less often, and the advertiser often pays more.
Limit Ad Groups to Similar Keywords
Let's say that you're setting up pay-per-click advertising for a business process outsourcing (BPO) firm. Your company, called Biznezz BPO, offers call center, mailroom, data entry, and bookkeeping services.
A typical business might set up one ad group that covers all these things. For instance, the keywords would include "call center outsourcing," "mailroom outsourcing," and so forth. The ad copy for that ad group would have a headline akin to "Biznezz BPO – Top-Rated Outsourcing Firm" with a description that generates trust and builds interest. A person who clicks the ad is taken to a general page that discusses all your offerings.
So, what happens when someone types "call center outsourcing" into Google and sees your ad? First, the ad may not be compelling enough to get them to click because it says nothing about call centers. But, let's say they do actually click under the assumption that your ad is relevant to them. They're then taken to a page where they have to hunt through all kinds of irrelevant information. They're not going to do it. They're going to leave, and you're going to pay for a click that didn't help you at all.
What would make more sense in this situation is to create one ad group for call center services, and group all related keywords in that, then create ads specific to call center services, and develop a landing page specifically for your call center services. You'd then build another group for mailroom services, a third group for data entry, and a fourth group for bookkeeping.
Tailor Your Campaigns and Ad Groups to Your Business and Goals
The above example is only one example of how an ad account can be structured. You can break your account up in whatever way makes the most sense for your business and goals. However, always keep the user in mind. The search query they type should align with the ad they see and the page they visit when they click. The only way to make that happen is by using ad groups effectively and limiting the number of keywords within each.
4. Your Landing Page CTAs Aren't Compelling
If your pay-per-click advertising efforts seem to be working because people are clicking and staying on your landing page, but you're not getting conversions, there's likely an issue with your CTA.
Follow CTA Best Practices
Only use one CTA per page
Place the CTA above the fold
Make it simple, especially if your CTA is part of a form
Be mobile-friendly
Use a contrasting color and leave empty space around it to ensure it stands out
Include an action word and express the benefit
Run A/B Tests to Improve Your CTA
A/B testing allows you to test a variant of a page against the original to see which performs best. Even minor changes, such as adjusting the text or color, can increase conversions. The more often you run A/B tests and act on the results, the better your campaigns will perform. Try to keep an A/B test running at all times for this reason. You can use a specialized landing page or pay-per-click software to run split tests. Many ad platforms, such as Google, also offer native A/B testing in the form of "Experiments." A good pay-per-click advertising firm can set A/B tests up for you too.
5. You're Not Working with a PPC Expert or Quality Pay-Per-Click Company
A lot goes into running effective campaigns. If you're not already working with an expert or don't have one on your team, it's with exploring pay-per-click management companies to find someone who can help maximize your ROI.
Strong PPC management firms will address all these points, plus will help with everything from creating compelling ad copy to developing landing pages and the technical aspects of running your campaigns. Good pay-per-click advertising agencies will also stay on top of your campaigns, addressing things like negative keywords and A/B testing, so the performance of your ads improves over time.
Experienced PPC advertising companies will get to know your business and audience, too, so that ads resonate with readers and set the right expectations. That way, visitors stick around, are more likely to become customers, and are happier too.
Amplify Your Pay-Per-Click Advertising Results with an Experienced PPC Agency
Hiring the right pay-per-click agency can make all the difference in how your ads perform and will free you up to focus on all the other things your business needs. If you'd like to connect with an experienced pay-per-click management company, request a consultation.